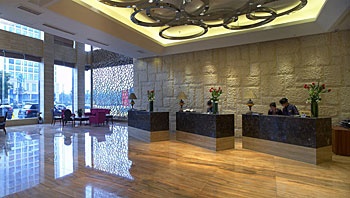 The Teckon Ciel Hotel Ningbo Jiangdong was recently renovated in 2017, making it a fantastic choice for those staying in Ningbo. Free in-room Wi-Fi is available at this property.
Boasting a convenient location, the hotel is just 9km from Ningbo Railway Station and 19km from Lishe International Airport. Being just minutes away from Century Avenue Metro Station allows guests to explore the city with ease.
This hotel makes a great place to kick back and relax after a long day of sightseeing. For those driving themselves, parking is provided on site.
Our guests consider this hotel to have excellent service. Perfect for those working on the move, this hotel caters to a large number of business guests.